Tuesday, October 31st, 2006
Once a month now, David's Bridal Barn sends me an e-mail reminding me that only "X" number of months remain until my wedding.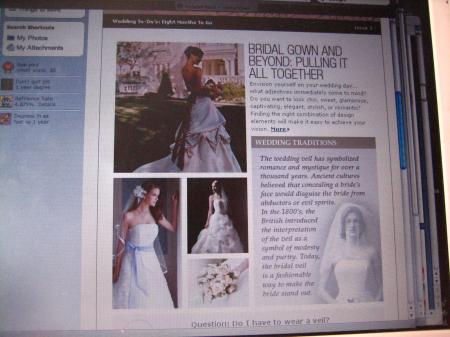 Eight months to be exact.
For those of us who have been confirmed bachelorettes and might be plagued by just the tiniest bit of commitment-phobia, these periodic e-mails—which I believe are intended to make me desire even more bridal stuff, since the deepest and most spiritual of life events in America are, after all, an exciting opportunity for shameless commerce and gross materialism—give me the momentary sensation that I'm suffocating.
I get over that pretty quickly when I think about how great Alex is and how enthusiastic and confident I feel about the marriage.
A little knitting never fails to calm me down, either:

But here I am, at the age of thirty-eight, confronting the American bridal industry, a disturbing mega-business that seems based on a whole series of dubious and even dangerous assumptions about what weddings should be, how much they should cost, and how they are supposed to fit into the context of one's life.
I think the most distressing assumption—which as far as I can tell goes unquestioned in all the bridal magazines—is that every bride should try to "drop a dress size" before her wedding.
Can we talk?
I'm all for eating properly and exercising and feeling healthy, but why must I be smaller by next June? Alex loves me as I am now and the only other people who will be at our wedding and related celebrations are people who already love me and see me as beautiful.
Nobody is going to say, "Gee, that would have been such a lovely wedding if only the bride hadn't been so fat. What a shame she couldn't drop a dress size before the event!"
No one is going to say that. I guarantee it.
But here's my question: why as women are we still being asked—literally and metaphorically—to take up less space? Be smaller? Quieter? More compliant? More pleasing to others?
Size 00?
I'm not the first, and I'm sure I won't be the last, to note the disturbing philosophical implications of Size 0 and Size 00 clothing.
We're really being asked, in rather clear terms, to become an…absence.
This is hardly an exhaustive treatment of this very complex subject. But, dear readers, here is my pledge: I will eat well and enjoy my food. I will keep my energy up. I will be strong.
I will laugh loudly if I want. I will argue. I will refuse to hide my intelligence. I will offer opinions. I will invest in myself as a person and not an object.
A few years ago, an well-meaning old friend said he wasn't very optimistic about my ever finding a mate. I was probably thirty-two at the time. "Ellen," he said, "you're going to be a tough match to make. You're complicated and you have a big personality."
It's true. I take up space. Many, many men do not like that quality in a woman.
Some happy day perhaps those men will evolve.
But even if they never do and even if they are made profoundly uncomfortable by the existence of women like me, I will continue to be who I am. And I am not a zero—neither literally nor metaphorically.