Thursday, November 30th, 2006
Just when you think that you've seen the worst the bridal industry has to offer, they surprise you with some new "innovation."
What fresh hell is this? Well, cats and kittens, here's the latest bridal merchandise, marketed under the banner of, "Show Everyone You're Getting Married!":

Dearly beloved, there's nothing like a "got husband!" t-shirt to make you yearn for the bygone days of the 70s, with their humorless "A woman needs a man like a fish needs a bicycle" apparel, bra burnings, consciousness raising groups, ubiquitous subscriptions to Ms. magazine, and orange shag carpets.
I'd even be willing to suffer through a new wave of Bee Gees hits if we could get back at least some of that spirit. Stayin' alive, indeed.
I'm not even going to explore further this t-shirt's icky connection to the "got milk?" campaign, and the subtextual undercurrents that invoke and link up—at least by thematic association—marriage, the resort to manipulative tactics by an oppressed group, female passivity and objectification, fecundity, and dependence on the male.
Oh, crap. I said I wasn't going to do it, and then I did. Never trust a graduate student who says she's going to resist long-winded analysis. It's always a lie.
Now, in "honor" of this new t-shirt offering and the ongoing, full-court press by the bridal industry to get all brides to "drop a dress size" before the "big day" (discussed in greater depth on this blog here) AND Alex's recent resolution to start pumping iron in an attempt to look more like Daniel Craig, I have made the following deals with my beloved:
Deal 1: I will wear the "got husband!" t-shirt if, and only if, Alex will wear either a t-shirt that says, "A woman needs a man like a fish needs a bicycle," or "got wife with Ph.D. and power tools who don't take no crap!" I think it's nice to offer a choice, don't you?
Deal 2: I will "drop a dress size" before our wedding if, and only if, Alex will commit to a frenetic bridal-style self-improvement program that will include (among other things, naturellement!—like teeth whitening procedures and regular manicures…) a minimum of five, hour-long workouts a week so that he can package himself for me on our wedding day as an object that perfectly reflects to "The Masculine Ideal." Something close to, say, oh, Daniel Craig.
Or you could think of the deal this way: I'll drop a dress size if Alex commits to gaining a dress size! Or, um, something like that.
All joking aside, however, I've been thinking about all these threads—the present day bridal industry, the early days of feminism, the issues still facing women in American society today—and I've come up with more questions than answers. Here's one thing I'll say, though: upon reflection, I think that when all is said and done, a good man is an awful lot more valuable to a woman than a bicycle is to a fish.
But a woman needs a "got husband!" t-shirt like, well, a sturgeon needs a Schwinn.
I don't know about you, but even though the 70s are long gone, I still got on my feminist boogie shoes.
Knitting? Still making progress on those gloves: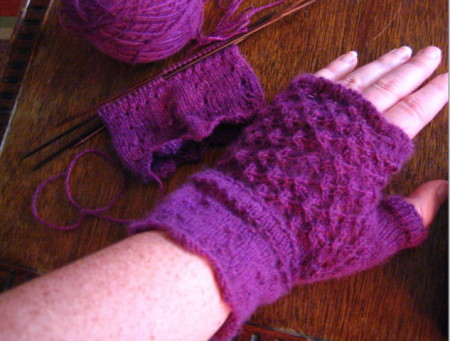 Back on Monday with some exciting stash enhancement news…