Wednesday, May 30th, 2007
Through the magic of technology, I am posting this while I am on my way to…Las Vegas! I swear, I spend more time in Vegas than anyone I know who isn't a compulsive gambler, and yet it is all for work. Serious work! Cross my heart and hope to die.
I'm going to an academic conference on risk. Okay, yes, there is a "Gaming Nite!" (which, rumor has it, devolved last year into a drunken conga line composed primarily of middle-aged men sporting tweed jackets with patches on the elbows) but the rest of it is as sober as Cotton Mather on a Sunday morning.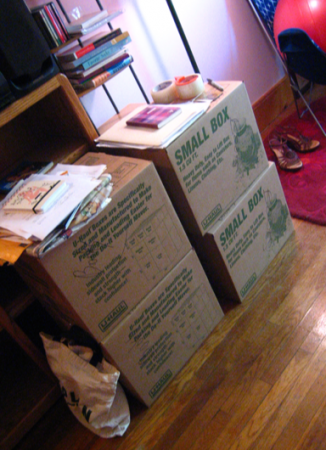 Or as sober as I am when I am packing house.
It has occurred to me that this situation has all the makings of a bad movie plot: "When commitment-phobic thirty-nine-year-old Ellen visits Las Vegas a mere twenty-three days before her wedding, little does she know what temptations she will face…and what hilarious hi-jinks will ensue! But as they say, what happens in Vegas, stays in Vegas!"
At the end of the movie, our heroine—after narrowly extracting herself from potentially shameful shenanigans with the cast of the "Thunder from Down Under" male strip show, flirting with the idea of leaving academia to become a showgirl, and blowing the entirety of her fall semester stipend shooting craps at Caesar's Palace—realizes, and fortunately not too late!, that domestic bliss really is everything it's cracked up to be. Whereupon she returns to Boston, gets married to the man of her dreams, and lives happily ever after with a large collection of Le Creuset pots, fondue sets, and toasters.
Thereby affirming our unshakable belief in marriage, motherhood, hot dogs, apple pie, baseball, Chevrolet, and wedding registries.
Knitwise, even as you are reading this, I am working on a lovely little scarf: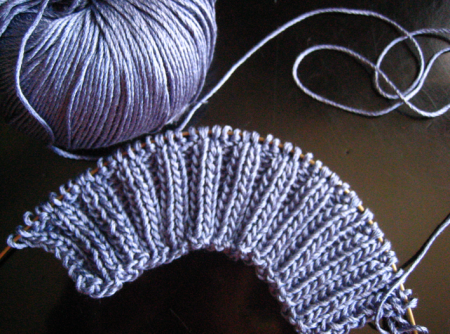 Divine Laines du Nord Mulberry Silk in a periwinkle blue color that I find simply heavenly.
I have not—I repeat, have not—abandoned Minnie, in spite of her truculent and boorish behavior. I merely needed a portable project to take with me to Vegas.
The idea is that knitting will keep me out of trouble. It hasn't worked in the past, but there's a first time for everything.
More soon from the City of Sin…