Post by Ellen
Wednesday, July 25th, 2007
I strongly believe that we do have to do something radical about our energy consumption in this country. Strongly. Believe.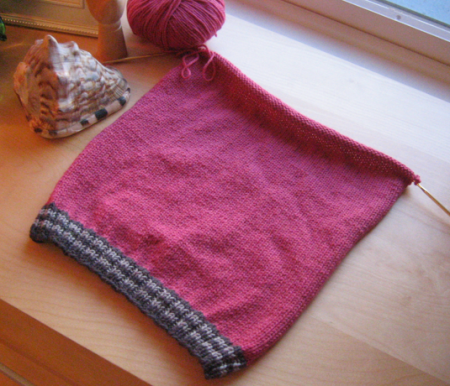 I also strongly believe that I should have more done on this elephant sweater than I do, but…
I would however be the first to admit that this is easier said than done. After all, we're not just talking about changing people's habits, which would be hard enough, we are also talking about an entrenched infrastructure and set of broader social habits that rests on the assumption that more or less every American has access to a car.
So it isn't just that we've got these gas guzzlers on the road, it's that there is massive technological momentum (as we call it in the science studies biz) behind the automobile. And technological momentum is extremely hard to reverse.
As an individual, you cannot reverse it. You cannot. There is literally no way to live in most parts of this country without a car. It can't be done. So at the moment driving a car everywhere doesn't mean that you're part of the problem, it means that you're part of an inescapable system.
Now I'm singling out the automobile here not because there aren't other environmental issues, but I think from the standpoint of the individual the car is, well, the thing. What I mean is, the car drives (no pun intended…heh…heh) a great deal of the rest of our overconsumption. And that drives a lot of industrial pollution and energy consumption and so forth.
Alex and I happen to live in one of the handful of places in the country where one can be "car-free," and we happen to be in a phase of our lives where there ain't a lot of loose cash floating around, if you know what I'm saying, so we don't own a car.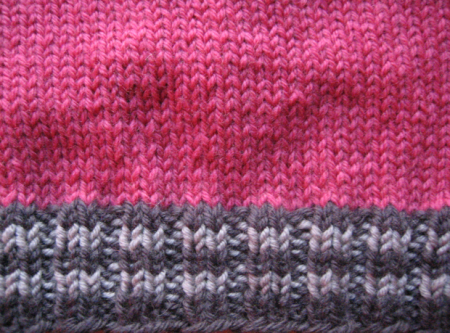 Although I did make this lovely ribbing. I love the way the colors look together. And also the odd way that the ripples in the fabric look a little like…Voldemort's face. Or maybe that's just me.
When you don't own a car, you think very carefully about what you buy. Because you and you alone are going to get to haul it back to Chez Mad Dog on the city bus. I hasten to add that this condition does not make us morally superior to anyone else.
It just means we're strapped.
But it has led me to reflect upon the fact that there's just a lot of stuff you can't buy if you don't have a car. A lot of stores you cannot frequent—including nearly all those horrific superstores like Home Depot, Costco, IKEA, etc. A lot of large stuff you cannot haul home and hoard. Interestingly, when people learn that we do not own a car, they frequently express shock and say something like, "Oh my God, how do you do it?"
Rather like they have just learned that both of us have recently lost an arm and a leg in a tragic accident and are now stumbling about on crude, newly-acquired prostheses.
It really is not anywhere near that bad. But it is a comment on the perception that having your own ride is just downright compulsory. Even in the rare instances where it is not.
Which leads me back to the problem of said automobile. Among other things, we're going to have to deal with the car and everything that radiates outwards and backwards and forwards from the car, and that's going to be a tough, tough thing to do. Not impossible, but very difficult. It will have to be a systematic fix too, not a matter of a few individuals here and there deciding and being able to ride bikes or take the bus.
I'm all for the bikes and the bus, by the way, but I'm speaking here of a society-wide solution that works, one that modifies the central technology we've got, works with the existing infrastructure, and acknowledges people's real needs. I myself do not have a feasible plan right now, of course, but I'm working on that… I am taking suggestions. Feel free to share your ideas.
Meanwhile, we'll all continue our nickel-and-dime environmentalism—recycling bottles, cans, jars, mixed paper; buying green cleaning products; driving a Prius. It's not going to be the thing that solves the problem, but at least we can feel that we're doing something.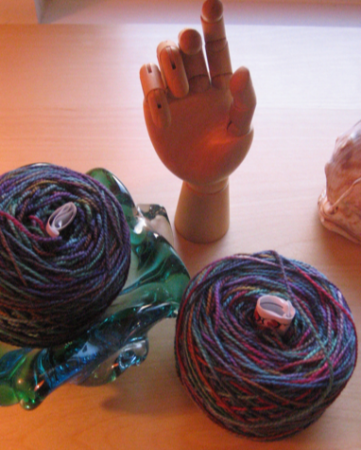 Want to talk about overconsumption? Look what I just bought. Cherry Tree Hill Gems Merino. And this when I was actually on a successful yarn diet…
Alex and I have recently added to our nickel-and-dime environmentalism portfolio a new washer and dryer made by Asko, a Swedish company that stresses the environmentally-friendly, energy-efficient, water-saving aspects of its machines. Our landlady brought us these over the weekend, bless her heart.
Asko. As in, "Asko not what your washer can do for you, Asko what you can do for your washer!"
Because—and I don't mean for a minute to sound ungrateful here—the Asko washer and dryer is not like your old Whirlpool. Here's the front of the washer: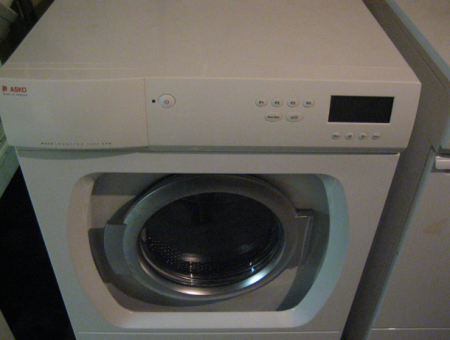 And a close-up of the "dashboard" of the dryer: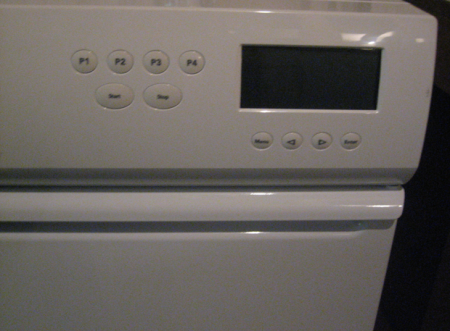 Simple in its way, yes, but would you know how to run a load of laundry without reading the manual? Yeah. That's what I'm saying.
So a couple of nights ago, I decide to run my first load of environmentally-friendly laundry. I read the manual for the washer. I screw up the programming a couple of times. I curse and stomp. I finally program it to run a "normal" load of dark clothes. All is well, I think.
Then I read the digital timer at the right of the display. It reads, "One hour and fifty-five minutes."
Yep, you got that right: two hours to run a "normal" load of clothes. Green is apparently a synonym for "excruciatingly slow."
Okay, I think, next time I'll try the "quick" cycle. It will probably only be an hour and a half.
I dutifully come back two hours later. I read the manual for the non-intuitive dryer. I screw up the programming a couple of times. I curse loudly and impugn the name of the Swedes and their mothers and grandmothers. I cry out in anguish, "Whirlpool, why hast thou forsaken me?" Then I finally manage to program it for a "normal" drying cycle.
This time I'm less surprised when the digital timer reads one hour and twenty minutes.
I am however weeping with frustration and otherwise going to pieces quietly in the corner of the basement.
When I informed Alex that a "green" load of laundry takes three hours and twenty minutes to complete, he said, "I see it all now. The Asko machines are more energy efficient because you quickly figure out that it is faster to do all your laundry with a washboard and a mangle."
And so it appears that in appliances as in other arenas we have a long way to go to make our ideals match up with our practical needs.
Until then, I'd hang onto your old Whirlpool.