Saturday, September 29th, 2007
I have been happily spinning away on the dyed Corriedale lamb's wool, which, as I mentioned last week, I obtained from the Homestead.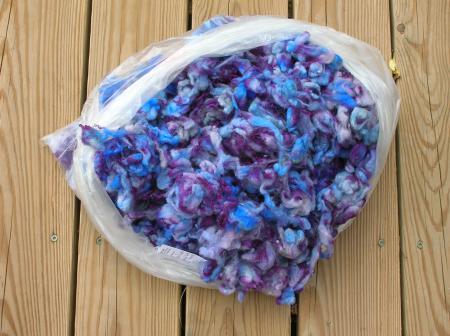 Here's the drill:
I take out a big handful of locks (while sitting on the couch watching movies, naturally), and comb them up into a series of beautiful rovings.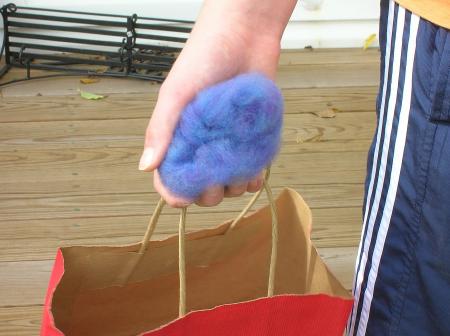 A representative sample held by Harvey.
When I fill up this red bag with combed fiber,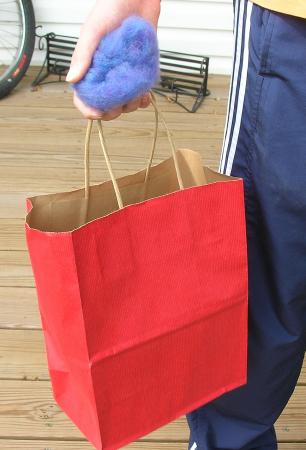 I start spinning.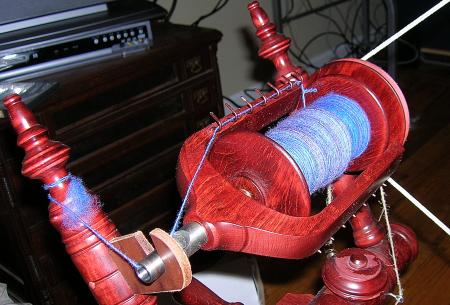 I filled up an entire bobbin this week, which I wound off into a ball.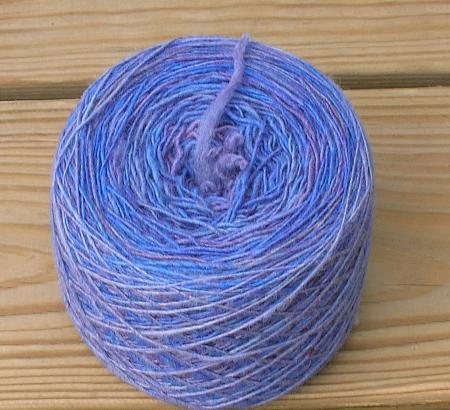 I am planning on making this a 3-ply yarn, for several reasons.  One, I've never spun a 3-ply yarn, and life is all about new experiences, right?  (Sure, whatever…)  Two, I have read that 3-ply yarn is actually better for use in knitting than 2-ply.  Supposedly, it fills in the stitches more and is rounder in cross-section.  Three, I saw a photo of a 3-ply handspun yarn in the new Spin-Off magazine that I just absolutely think is gorgeous, and I got inspired to try my hand at a 3-ply yarn.
I'm really, really enjoying spinning this fiber.  It's very soft, and each little combed roving is slightly different, which I think gives the yarn a sort of richness and also holds my interest as I'm combing.  I'm looking forward to seeing the finished yarn, which I think will have enough color variation to be visually interesting while still having enough cohesion to read visually as one color. 
Till next week…