Wednesday, January 30th, 2008
I have been reading Cormac McCarthy's The Road and it has put me in a disturbingly apocalyptic mood. To be fair, it is an excellent book, very powerful…but be prepared. Soon, you'll be seeing signs of the coming apocalypse everywhere.
Case in point: between McCarthy's vision of a post-apocalyptic America, my own personal health insurance fiasco, the miserable prevalence of SUVs in our neighborhood alone, the burgeoning worldwide human population, and American stores stuffed to the rafters with pleather easy chairs, Sno-Globes, and underpants made out of petrochemicals, I have spent the last few days pretty thoroughly convinced that the human species will be extinct within a few generations.
And when have I ever been wrong? That's right. Never.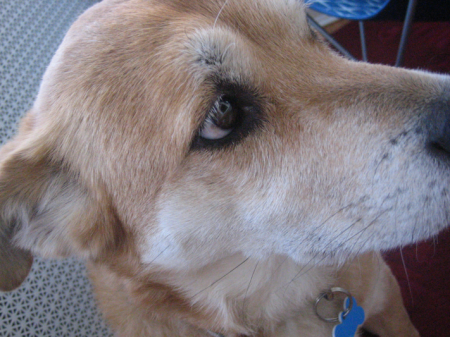 Um, I can think of a couple of times. Like when you wouldn't let me eat that groundhog I killed. You were WAY wrong that time. Wrong, wrong, wrong!
Right or wrong, though, it's been a dangerous frame of mind, not only because it has been very demoralizing, but also because I'm really just a hair's breath away from spending my afternoons standing on the street in Harvard Square ranting about socialism.
See? Dangerous.
Like any good American, however, I've been distracted a bit from my role as "Prophet of Doom" by consumer goods, although I have eschewed the pleather and, heaven knows, the SUVs.


As far as I am concerned, this is the sock yarn dye-job to end all sock yarn dye jobs. I just love this yarn and I can't wait to knit with it. And after all, when the apocalypse comes, we're going to need warm wool socks, aren't we? Preferably in attractive colors.
And who do we have to thank for this exquisite stuff?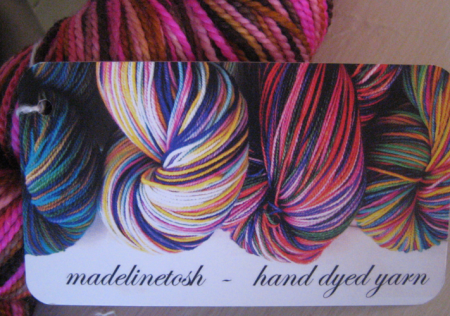 Madeline Tosh. Yarn shown here in colorway Peony.
And of course, I have continued to knit my second Ice Queen, which I want to finish even if we are all going to go extinct. Because, look, even long term extinction does not relieve us of our immediate mandate to "look good, kick ass, and take names."
Which, now that I think of it, would be hard to do while ranting about socialism on a street corner.
And then there's Shelley. Nothing keeps you honest, grounded, and fully in the present like a dog. The other night, we were watching Werner Herzog's Grizzly Man together and Shelley was sleeping at my feet, as is her wont during home film screenings.
Those of you who have seen the film will certainly remember the scene of the two male grizzly bears fighting quite violently over a female. As soon as the fight commenced, Shelley sat bolt upright, ears at full mast, and stared intently at the television screen. She cocked her head to the left, then the right. Left again. Right again.
Then she looked at me as if to say, "Well, I'll be—if you'll pardon the expression—doggoned. How'd you get them miniature bears in that box?"
I said, "Shelley, Miss Puppy, the same species that got those miniature bears in that box are the authors of the coming apocalypse. And that's just the awful truth."
She looked at me quizzically and gave my hand an affectionate lick. Then she yawned and went back to sleep.