Friday, April 6th, 2007
Well.  What Ellen failed to mention yesterday is that she has engaged yours truly to come out to Boston for the east coast party and bake wedding cake(s).  And supervise the preparation of the other food, too.
Uh, Ellen?  180 guests?  Lord have mercy.  I was really thinking I'd be baking for about 60.  That just goes to show the truth of the obnoxiously smarmy saying about "assume!"
OK.  We can do this.  We have the technology.  Despite the fact that all my baking pans and equipment are in NW Missouri, and the party is taking place in the greater Boston area.
We just need to figure out what kind of cakes we're talking about here.
How about a small, tiered, square white cake with vanilla buttercream, like so?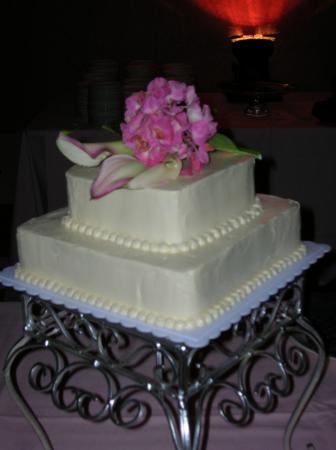 Or perhaps a flourless chocolate cake?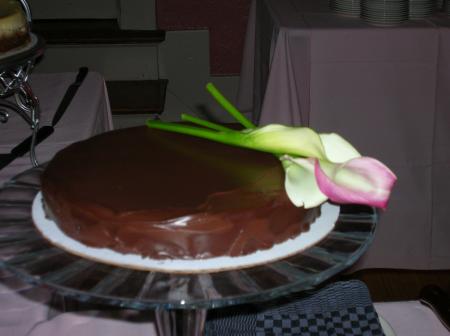 (As an aside, these are really, really delicious.  Like mainlining chocolate.  Hook up the IV, girls!)
Maybe a chocolate cake with chocolate truffle filling and chocolate buttercream?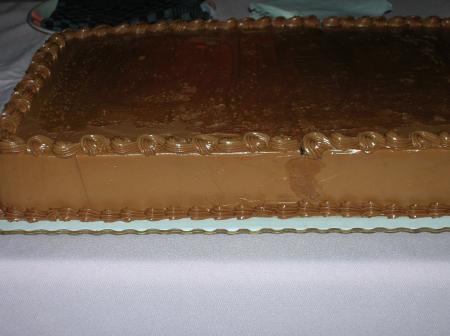 I believe this particular cake had fresh raspberries embedded in the truffle filling.
Or its fraternal twin, a white cake with white chocolate truffle filling and white chocolate buttercream?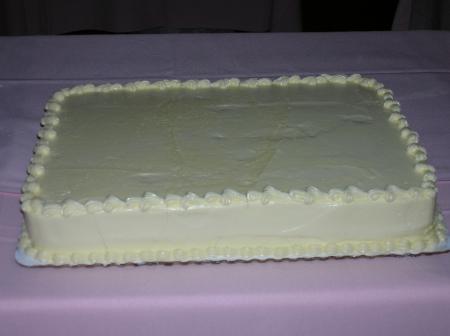 This cake had sliced strawberries in the center.
Or we could go with cheesecake–always a popular choice.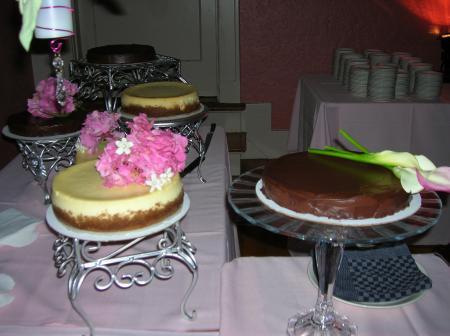 Seen here fraternizing with the bad-boy flourless chocolate cakes.
How about lemon cake?  That's nice and summery-seeming.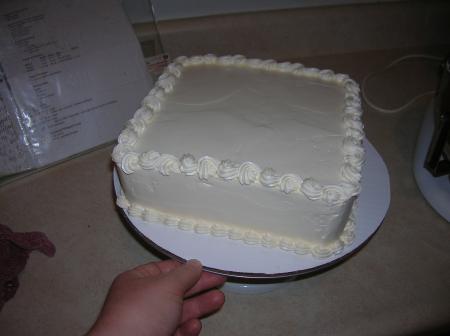 (Although in actuality about as light as a lead balloon.)
Or, (not pictured), carrot cake?
I realize that all these white-ish cakes look very much the same on the outside, but inside the differences are vast.  Vast, I tell you!
And what's the plan for all the other food?  Remember Mom's birthday party a couple years ago, Ellen?  Are you thinking of something like that?  Let's see, we had hot artichoke dip with bruschetta for dipping, hummus with pita bread, baked Brie en croute with crackers, a vegetable array, fresh fruit, Sarah's famous pasta salad, cake, and maybe something else that I'm forgetting.
Oh, and, as much as I like the ideas for plants in the backyard that others have suggested in the comments, with 180 guests you may find yourself needing every square inch of yard space.  Pack 'em in!  I myself really believe that, with lots of good food and (heaven knows) booze, no one will notice the yard.  But perhaps that's just because I am a terrible gardener but a pretty good cook.
Let them eat cake!