Monday, July 23rd, 2007
Back on our blogiversary, we announced a "Guess the Guests" contest, the winner of which would receive the Amazing Pink Cone of Wonder (a.k.a. 2000+ yards of a cashmere-wool blend laceweight yarn in hot pink):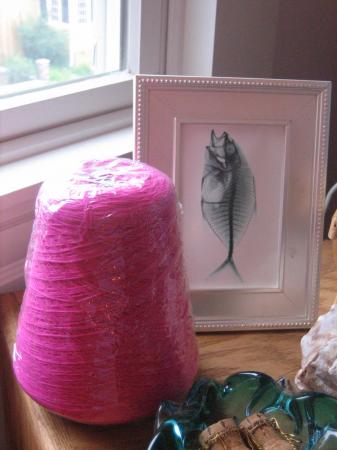 Sarah made her Handsome Triangle out of this stuff and it is…otherworldly. As its earthly curator, I have kept this cone wrapped, so its full wonder is not quite apparent in this photo.
I would have announced the winner much earlier, but I was extremely busy partying, attaching eight-point bustles, learning how to run recalcitrant new appliances (more on that later), kicking Craphound to the curb, and mastering a foolproof recipe for our preferred "adult beverage" of the summer—the fresh whiskey sour.
What? Why, yes, I will share my newfound wisdom. After all, even if you don't have a landlord like Craphound, you undoubtedly have some insufferable peckerwood in your life who makes your day seem long and your need for a whiskey sour very great.
Here's what you do to make about four cocktails:
Combine 1/2 cup freshly squeezed lemon juice;
1/2 cup freshly squeezed lime juice;
1 cup of simple syrup (made by combining 1 cup sugar and 1 cup water and heating over low to medium heat until the sugar dissolves);
3/4 cup Jack Daniels.
Fill a cocktail shaker with ice and pour this combo of ingredients over the ice. Shake vigorously for about half a minute. Strain the shaken cocktail into a cool glass and add a maraschino cherry (or four).
Now that everyone has a drink, we do in fact have a winner. Naturally, there must be a drum roll (what else?)…and the winner of the Amazing Pink Cone of Wonder is…
Get in touch, will ya, Kristy? And I'll send you your prize.