Wednesday, February 9th, 2011
Days 17 & 18:  Monday & Tuesday, February 7 & 8, 2011.
More plodding away on Raspberry Lemonade.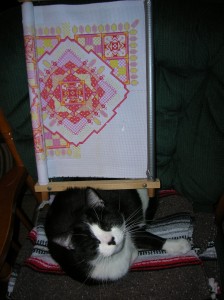 That's our kitty Frank, there, helping me out with the photography.  You know, 'cause cats are just oh so helpful when it comes to projects involving string!
There is progress being made, but it's slow, and I've been really tired and grumpy the last couple of days.  I've had a bad case of the winter blahs, and my normal reaction to such a mood is to Start a New Project! (on the theory that nothing cheers one up like having a new project!), but I have forbidden myself any starting of new projects while so many old projects remain unfinished.  Bleh.  So I was good girl and worked away on the ol' Lemonade.
A close-up: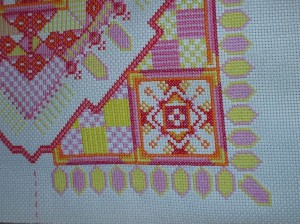 And a close-up of Frank: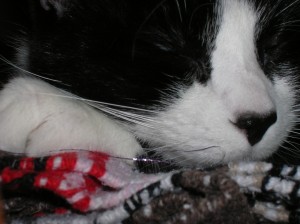 Awww.  Isn't him sweet?!