Tuesday, February 27th, 2007
Shelda asked about the sock pattern I have in mind for the beaded socks.  Actually, this is a Heartstrings sock kit which I purchased from our mutual friend Carol H. a while back.  The pattern was included, and the colorway is "purple iris."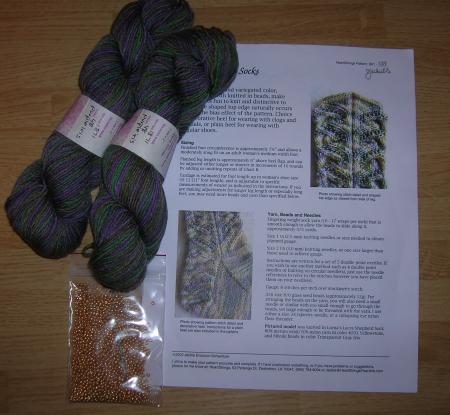 At first when I bought this kit from Carol, I didn't think I'd make the pattern as written.  I just wasn't too sure about the whole idea of beaded socks.  But the idea has sort of grown on me, so now I think I'll go ahead and make them according to the pattern.
But first, I need to make myself another knitted dishcloth.  I bought this hemp yarn from Elann recently with just that purpose in mind, having heard that hemp is naturally bacteria-resistant.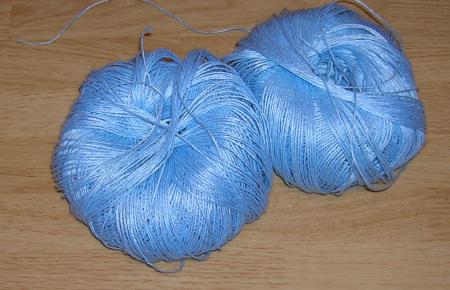 Now, I know that some people have lots of fun making different dishcloth patterns, but I myself just use the garden-variety, start-with-two-stitches-and-increase dishcloth pattern.  This may be because I only start knitting a dishcloth when I absolutely, positively need one, so I need to get it done as quickly as possible.
I have a week and a half before I go to the fiber retreat in Jefferson City, and it occurred to me recently that I had written on my registration that I would be putting Blue Bamboo in the gallery of student work.  Uh oh.  Guess I better pull it back out and work on it.  In typical fashion, I petered out while working on the sleeves.  I'm about two-thirds through the first one.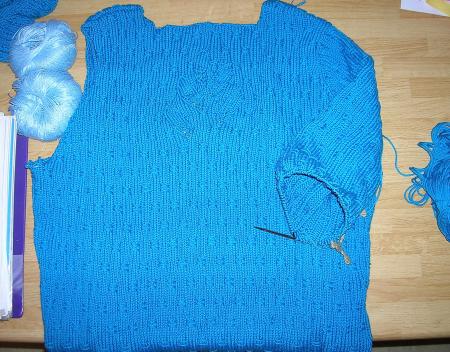 Then, after completing the sleeves, I'll put the leaf edging along the fronts.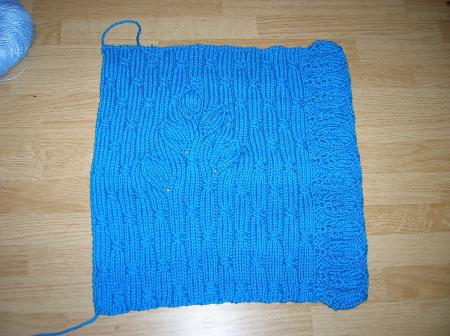 Will I be able to finish it in time?  Only time will tell…. 
And, truly, I guess if I don't, no doubt nothing tragic will occur.