Monday, September 3rd, 2007
When you receive a handknit gift…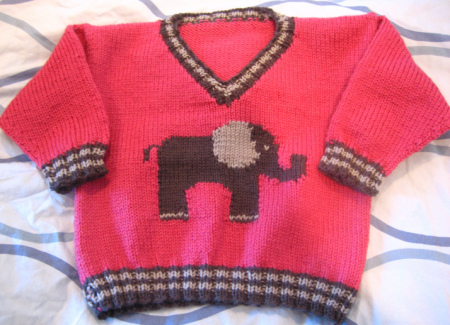 Such as, for example, an Elephant Baby Sweater
…from a friend or loved one, you may find yourself wondering, "How should I respond? What does etiquette dictate? How can I express my gratitude in such a way as to receive further handknit gifts in the future?"
Wonder no more!
Below please find a superior response model. Feel free to adapt and modify for your own purposes, but be sure to retain a similar tone of unfettered enthusiasm and unbridled gratitude:
Ellen!!!! Thank you so, so, much for the adorable sweater for A.!
I am almost at a loss for words—such a kind and generous thing to do. I know how much work goes into a hand knit sweater like that and I am just speechless. A. saw it and yelled "ant"!! Which is her word for elephant right now and I held it up to her and she looked very proud 😉 I will take a picture as soon as I get it on her.
Oh, just thank you so much – I am so touched. I have such deep admiration for people who can do fine hand crafts like knitting, needlework, etc. and feel very lucky that people I know do them.
Ellen, just a truly wonderful thing for you to do and I send this with a million thank you's and I'm just very overwhelmed. Thank you, thank you!!
I'm filled with gratitude and send my warmest thoughts,
J.
Now that's the way it's done.