Saturday, September 22nd, 2007
Finishing Minnie (yes, it's true!) has put me in the mind of that genre of jokes in the good news/bad news form, my favorite of which is this:
Mr. Jones goes to the doctor to get the results of some recent tests. When the doctor comes in, he looks at his patient's chart and he shakes his head. He says, "Mr. Jones, I have some good news and some bad news. Which would you like first?"
Jones says, "Well, let's bite the bullet. I'll take the bad news first."
The doctor says, "Okay. The bad news is that you've got pancreatic cancer and the prognosis is not good. I'd give you six months to live."
Jones says, "Wow. Um. That's pretty bad. So what's the good news?"
The doctor brightens and he says, "The good news is that my son got into Harvard!"
By the way, if you ever find yourself working as a college counselor at a high-test private school attended primarily by the children of NYC's wealthiest people, don't try to tell that joke at a parent meeting. Unless you enjoy stony silence.
Believe me, I know from whence I speak.
But I digress…
So the good news first in this case: Minnie is done.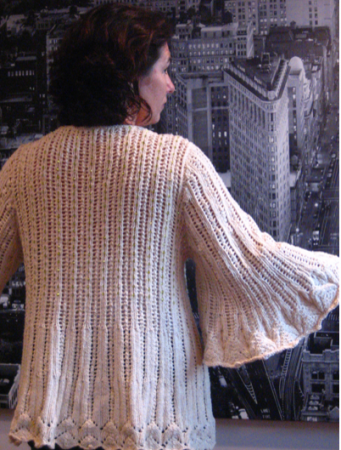 Here's the back. Fairly pretty, I think.
I've begun with the photo of the back because full frontal shots can only point us toward the awful truth—Minnie is not a flattering sweater on me. Maybe on someone, but not me. That, my dear, dear friends, is the bad news. After all that work. One could simply weep.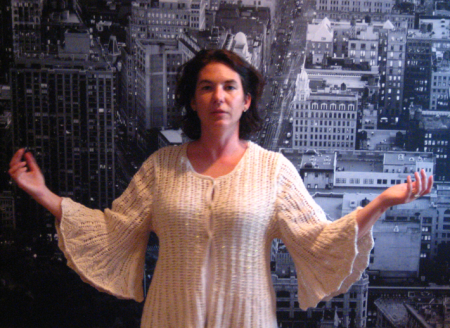 Knitter or Mack Truck? I have even worse pictures, but to post them? The shame is too great!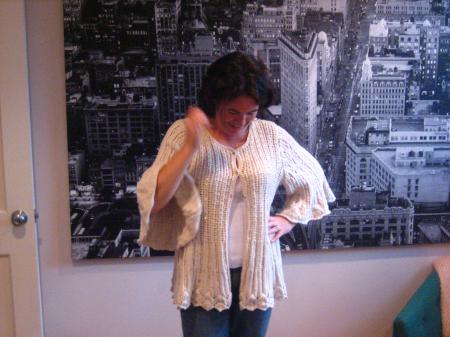 What have we here? Why, it looks like an unflattering handknit sweater that was furthermore a hellish thing to knit and caused its creator nothing but grief. Woe be she who picks the wrong garment!
Chez Mad Dog is a dark, dark place today.
And in fact, I must run. Alex has offered to take me to see Eastern Promises, the new Viggo Mortensen film in which my man Viggo appears buck naked but for his tattoos.
Apparently, there is a feeling in some quarters Chez Mad Dog that there is nothing like Viggo Mortensen naked to cure what ails a girl and make her feel like her sunny self again.
I cannot, I fear, argue with that logic.