Wednesday, November 22nd, 2006
Truly, this is a momentous day.
After a nice, long soaky bath,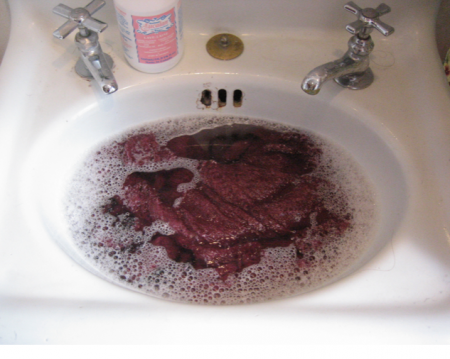 These Eucalan baths are a little-known beauty secret of the stars.
and a torturous day stretched out on wires and pins (I could not bear to photograph it…it was hard enough to witness his suffering…), Icarus is ready for his debut: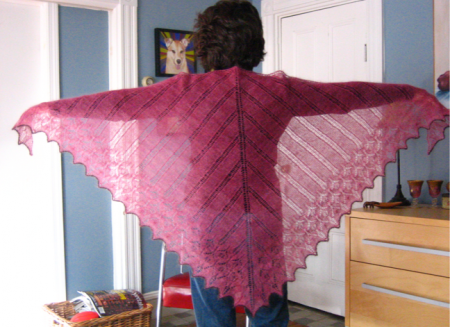 Specs: Three full skeins Alchemy Haiku in lovely "Vermillion," plus a single, sanity-sparing ball of Kidsilk Haze in "Villain;" U.S. size 3 needles, bamboo; blocking wires up the kazoo; 60+ pins; a case of Jacob's Creek Shiraz-Cabernet; a bucket of tears; a stream of curses in four Indo-European languages.
But worth it. All of it, worth it. Indulge me, will you, while I show you yet another view?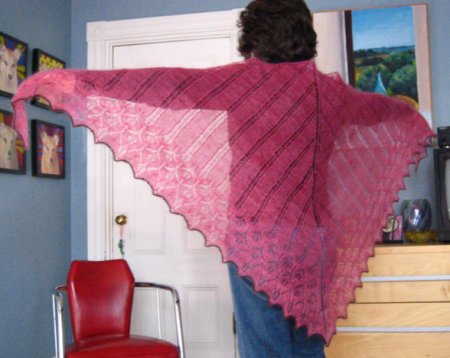 Measurements: 76″ wingspan, 36″ from top edge to center point.
Aw, hell, days like this don't come along very often: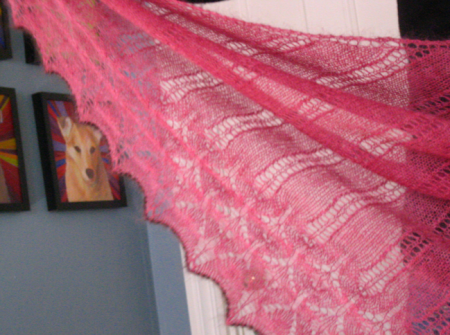 A lone wing with portrait of Shelley in the background. Yes, she is the only mongrel in all of North America who has sat for a series of portraits. And yes, I know what you are thinking. But it's a good kind of crazy.
Icarus in motion: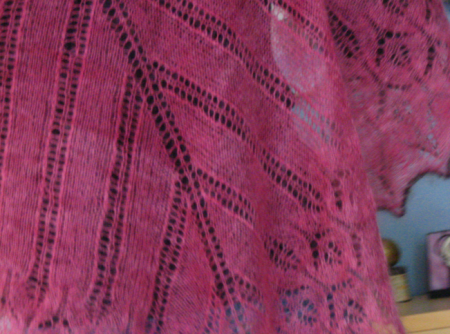 I got feathers, can't I fly?
Icarus on the edge: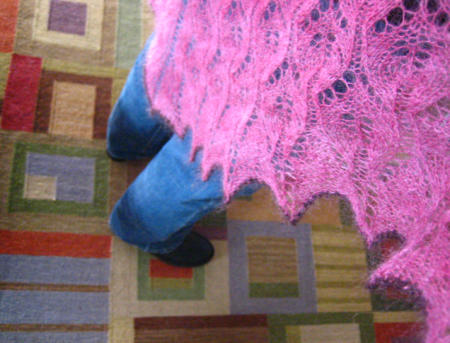 I've made things in the past that were cute, or functional, or delightful, or even a little ingenious. But I think this shawl is flat-out the most beautiful thing I've ever made.
I couldn't be happier with it.
That pop you just heard? Champagne cork. The untrammelled celebration has begun Chez Mad Dog.
Raise a glass with me? And Happy Thanksgiving to all of our American readers.