Wednesday, February 9th, 2011
Day 16:  Sunday, February 6, 2011.
Today I worked on some knitting while watching the Super Bowl with my family.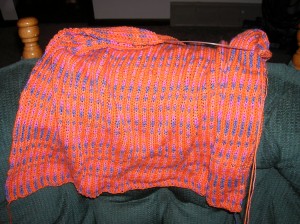 This is a baby blanket in the Knit One Below column pattern.  I bought the book Knit One Below soon after it came out, and just fell in love with this column stitch and the possibilities for it.  I started making baby blankets in this stitch, and so far this is my sixth one.  (Three finished, and three in progress.)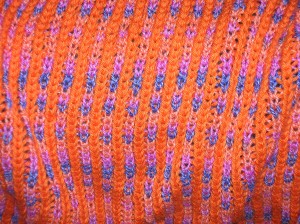 This particular blanket uses a cotton/wool sock yarn for the striping columns, and a cotton/acrylic blend for the solid orange columns.  I try to stick to machine-washable yarns when making baby things; I feel it's not fair to expect parents of an infant or very young child to hand-wash anything.  I know I certainly wasn't up to hand-washing anything when H was a baby. 
I've really enjoyed making these little blankets, and really feel that I've only touched the tip of the design iceberg here–there are so many possibilities with this stitch.  As I look at this, I find myself thinking about making one with two different but coordinating self-striping or handpainted yarns.  I have one in progress in which I'm making a checkerboard pattern with blue and orange, and the possibilities for design there are almost endless.
Another interesting idea:  I also bought Knitting Brioche: The Essential Guide to the Brioche Stitch not long after getting fascinated by k1below stitch patterns, and realized that it is essentially a variation on the brioche technique–really just another way to accomplish knitting brioche.  Nancy Marchant has come up with some truly intriguing brioche stitch patterns; it would be interesting to see if they could be accomplished using the k1below stich technique instead of the yo brioche technique.