Monday, February 26th, 2007
Zeno, openly adored cat of his primary caretaker Alex and surreptitiously loved step-cat of Ellen, died suddenly and tragically on Saturday evening, a victim of vehicular cat-slaughter. He is also survived by his canine sister, Shelley, of the home.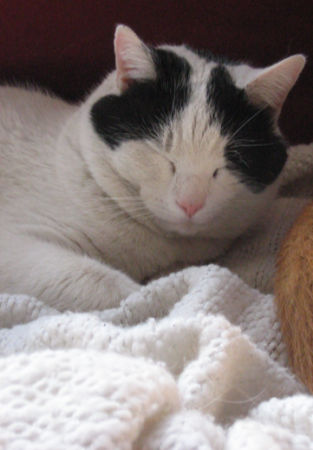 Zeno, resting near Shelley's tail. Photo taken in his last days.
Although Zeno was a fairly consistently surly cat, and was known to bite at the least provocation, he nonetheless found a place in our hearts and was, along with Shelley, at the center of our household.
We already miss him terribly: we miss his habit of sitting outside my office window yowling; we miss the way he would blow us off by turning tail, hitching up his little butt, and stalking out of the room in a huff; we miss his grudging affection; we miss the sounds of murderous frustration he would make upon seeing a bird or squirrel he couldn't hunt down and kill.
We miss his clear-eyed assessment of the Lee Harvey Oswald conundrum.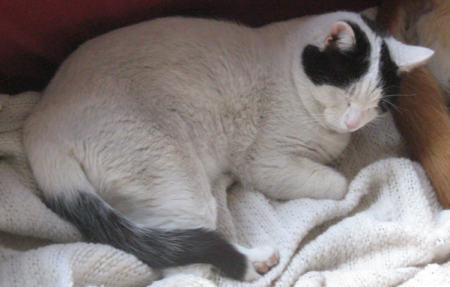 We miss his lithe and compact physicality.
But most of all, we miss his conversation. As Yvor Winters said of Hart Crane, "I would gladly emulate Odysseus and go down to the shadows for another hour's conversation with him…" Granted, Zeno's responses were mainly limited to "mrak" and "hell-whoa," but the astonishing range of meaning and expression that he wrung out of those two vocalizations will long live in our hearts.
Our hearts which today are as wintry as this tree: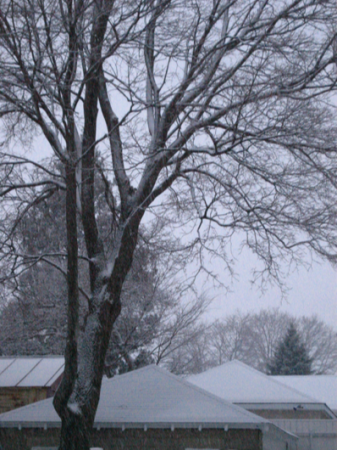 Our plan for the week is to cry a lot.
Our greatest hope is that he has been reunited with his derelict truck in the Great Beyond.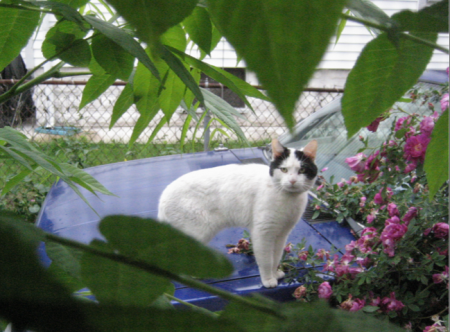 It ain't heaven if it ain't got no derelict truck.
Zeno will go to his final resting place tonight. In lieu of flowers, we ask that you feed your favorite cat a full can of Fancy Feast this evening. Zeno would have wanted it that way.
Rest in peace, Mr. Kitty.