Fall 2006 Knit Sisters Challenge and Contest
Ellen and I, after much deliberation and soul-searching, are pleased to announce the Fall 2006 Knit Sisters Challenge and Contest!
In honor of the upcoming change of seasons (and believe me, that change cannot come soon enough for me)Â we would like to invite all our blog readers to design a knitted item with a leaf motif.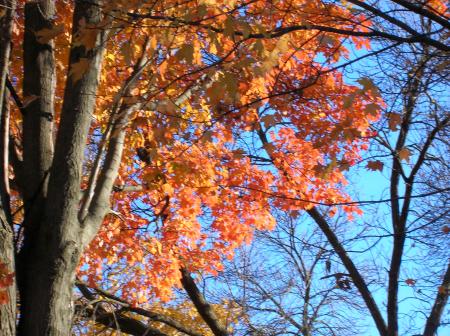 (This is the glory that is the maple tree in my front yard–last year.)
Here's the scoop:
1.  The challenge starts now and will end October 15, 2006.
2.  Any knitted item that incorporates a leaf motif is fair game.  This includes anything from the largest sweater to the smallest cravat or wristlets.
3.  Any technique may be used:  lace, intarsia, stranded, cables, brocade, etc., as long as the end motif is recognizable as a leaf.
4.  Send us a photo of your item by Sunday, October 15, 2006, and we will post all the photos in a gallery on the blog.
5.  On October 16, 2006, we will open the floor to voting for your favorite knitted leaf item.  Send us an email or post a comment with your 1st, 2nd, and 3rd place choices.  We'll leave the voting open for 2 weeks, or until October 29, 2006.
6.  There will be prizes (!!!) for at least the 1st, 2nd, and 3rd place finishers.  I will be giving handspun yarn to the winners; there may be other prizes as well.  (We're leaving that door open for now.)
I will be working on my new design Blue Bamboo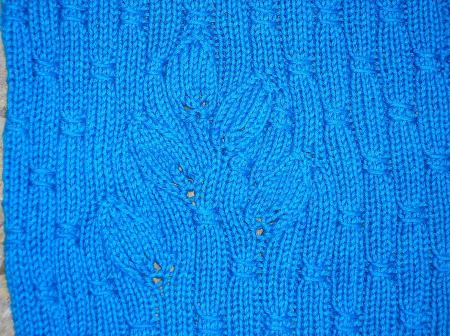 during this time, although it will not be included in the voting, for obvious reasons.  Ellen promises me that she will come up with something….
Need ideas for sources for leaf patterns and motifs?  Here are a few of my favorites:
1.  Any of the Barbara Walker Treasuries
2. Â Nicky Epstein's Knitting on the Edge, Knitting Over the Edge, and the brand-new Knitting Beyond the Edge
3.  1000 Great Knitting Motifs by Luise Roberts
4.  Latvian Dreams by Joyce Williams
There are many, many more, of course.  Harmony Guides, Fair Isle books, lace knitting books, etc., etc. 
If you have questions, feel free to email me or leave a comment and I will get back to you.  Have fun!  May your flying needles create a cool breeze in these hot times!