Post by Sarah
Thursday, July 6th, 2006
I finished the simple summer sweater on Tuesday.  Here I am modelling it: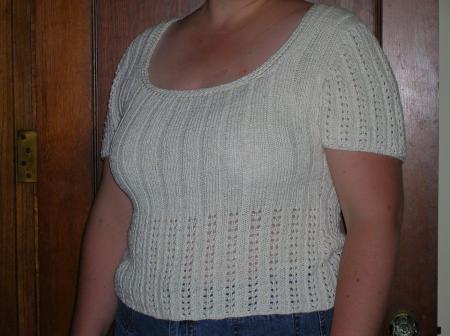 And here is a detail of the neckline edging: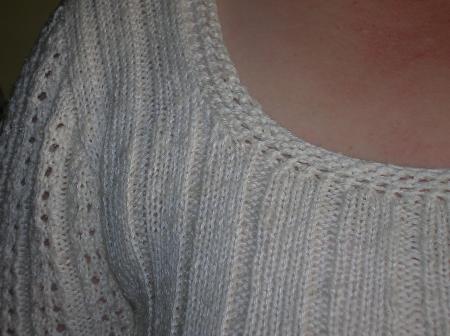 Although this edging may look like crochet, it is not.  I'll just be upfront right here and now and say that I avoid crochet whenever possible.  I don't like it.  There, I've said it, and to heck with the consequences!  (I could go on, but I think we'll just stop this topic right here.  Things might be said that I would later regret.)
I'm pretty pleased with this sweater.  It turned out almost exactly the way I was envisioning it (a rarity), and it fits very well, I think.  I designed this with negative ease, which was a bit scary for me, but I committed myself to trusting in the measurements, and all worked out in the end.  There are a couple of things I would change, one of them being the way the top-down sleeves are constructed, since I think they ended up just a bit too full.  I am thinking of actually writing this up as a pattern (with other sizes, too!) and offering it as a free pattern on the blog.  Anyone interested in that?
And now, on to other things.  My next project, is, as yet, just an emergent swatch: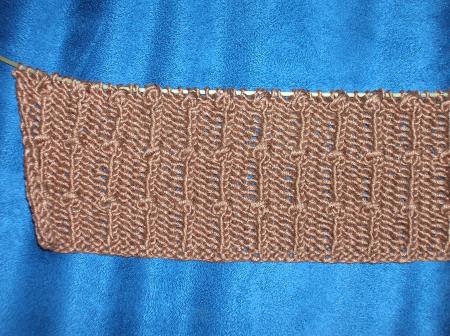 and a rough sketch: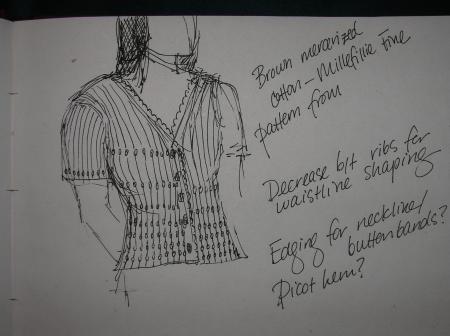 This yarn is Filatura Di Crosa Millefili Fine, 100% mercerized cotton, that I purchased from Elann some time ago.  In fact, this yarn has already had one life as a sweater that I wore many times and enjoyed, although it never fit quite the way I had wanted, or was as flattering as I feel it could have been.  So, a couple of months ago, I ripped the whole thing out, washed the yarn, and have had a few ideas simmering on the back burner for it.
Right now, as you can see from the sketch, I'm seeing this as a fitted, short-sleeved cardigan sweater, although not one that would have something else worn underneath.  The v-neck I would like to be deep enough to be a little sexy, but not so deep that undue cleavage is shown.  But, I'm still pondering the details.
(Upon reading over this post, I realize that I have made it sound as though I have only one project going at a time.  I would like to stress that this is not true.  In fact, I am one of those weak-minded persons who cannot resist casting on with whatever new or rediscovered yarn crooks its little finger at me.  Right off the top of my head I can think of three other projects I have going, and those are just the ones in the top layer.  It is also not uncommon for me to get 2/3 or even 3/4 of the way through something, only to decide that I no longer like it or it's not worth the candle and rip the whole durn thing out.)